Today's Fangirl Friday is perfectly timed, since I'm currently bingeing season three of the television show Meredith from Pandora's Books is here to obsess over! I watched the first two seasons religiously every week when it first came out in 2013 and then somewhere along the way, I fell behind a few episodes and never caught back up. Since the series finale just aired last month, I figured the timing would be perfect to binge watch. There's so much to love about the show…the drama, the swoons, the WARDROBE and the music. It all comes together to make an addicting and intriguing show. Listen, it may not be totally historically accurate, but it's still a lot of fun to watch. I'll let Meredith take it from here…
Hey everyone! I'm so excited to be on What Sarah Read for Fangirl Friday! Sarah is AMAZING and Fangirl Friday is an incredibly fun feature! Today, I'll be fangirling over the television show Reign!
 For those of you who follow me on Twitter, you know I'm OBSESSED with this show. I cried happy tears when it was renewed for season four – and live tweeted almost every episode – and I sobbed like a baby for days when
it was announced that season four would be the last
. When I say I'm obsessed with this show, I really mean I'm OBSESSED. I randomly re-watch favorite episodes on Netflix and via my DVDs, and I tend to cast the Reign characters as characters in the books I'm reading – frequently. I own seasons 1-3 on DVD and have already pre-ordered season 4, and I own the books based on the show that were released awhile back. I even bought books outside of the Reign-verse, both fictional and non-fictional, to fuel my interest in Mary Queen of Scots and royalty in the 15th and 16th centuries.
(I just moved, so my two Reign books are still trapped in a box somewhere *sobs*)
Anyway, today I'm here to convince you that you NEED to watch Reign so you can fangirl over it with me! So, here we go:
1. Adelaide Kane SLAYS as Mary Queen of Scots!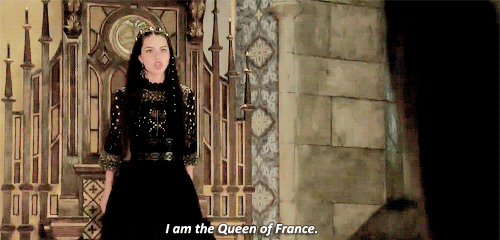 And she's not the only fierce female on this show. Many of the female characters are strong and incredible role models.
2. There are SO MANY SHIPS to flail over – Frary being the fan favorite! And all the ships are SUPER hot and filled with drama and feels.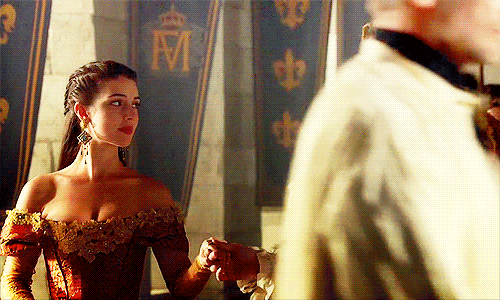 *Fans self!!!*
3. The music is !!!!!!!!!!
I could keep linking you to YouTube videos, but I won't.
Okay, I lied. Here are a couple more epic ones:
Okay, okay. I swear I'm done. But you guys. If the music alone doesn't convince you… *Drops mic, walks away.*
4. The costumes (and accessories/jewelry/etc) are just as !!!!!!!!!! as the music!
5. The plot! The plot isn't always historically accurate – neither are the !!!!!!!!!! songs and costumes. But this show has amazing characters and intriguing plots. One episode can make you laugh, gasp, cry and cheer, all in 40+ minutes. You'll become attached to these characters. You'll root for them to succeed and cry when they don't. You'll ship the crap out of them, and mourn the ships that sink. It's not just a "one and done" show – You'll watch this show once through and then want to watch it over and over again.
This show will sink its claws into your heart and remain there for a VERY long time.
~*~*~
*Clears throat*
So, yeah.. I did mention I'm just a tad bit obsessed, right? And hopefully you are, too, now! *Wicked grin* So there you have it! The five reasons why you should be watching and fangirling over Reign. The show may have ended, but its legacy lives on. Long May She Reign!
IF YOU'RE INTERESTED IN TAKING OVER MY BLOG TO FANGIRL YOUR OWN HEART OUT BE SURE TO SIGN UP BELOW!

DATES AVAILABLE STARTING IN Septembr.