You guys! FANGIRL FRIDAY is back!! That's right, I resurrected one of my favorite blog features and am so excited to tell you I have such an exciting lineup of fabulous bloggers that are ready to fangirl their hearts out!
Fun sidebar, as I sit here typing this post, I'm in the middle of my Buffy the Vampire Slayer re-watch! I'm currently on episode two of season five and loving it just as much as I did the first time. I ALMOST forgot how much I love this show. I may have to make a special extra edition of Fangirl Friday some day just so I can gush about how much I love this classic last 90's/early 00's television icon!
Speaking of amazing television, Andi from Andi's ABCs is here today talk about her latest tv obsession. I have to say I'm pretty excited about this post because I was OBSESSED with this show back in the day. Reading through Andi's post makes me want to do a re-watch of my own so I can catch the new episodes. Well, after I finish Buffy of course!
On February 17th Sarah announced she was reopening Fangirl Friday and the timing couldn't have been more perfect. I had just finished my binge watch (first time watch) of Prison Break so I knew exactly what I would fangirl about. And then Sarah sent me my post date and the timing was even more perfect, it was the Friday after Prison Break returned 7 years after it ended. I know right? It was like she planned it just for me. So what am I' going to fangirl over you ask? Obviously card making. 🙂 Just kidding. Welcome to my Prison Break obsession!
It started simple enough. I was laying in my bed on a Saturday morning, super early, and looking for a new show to watch. I had just finished my watch of season two of The Man in the High Castle (if you don't watch that show you should). I was looking at my Netflix list of shows I saved to watch later and came across Prison Break. Now to be honest I had no idea it was coming back for a 5th season (I found out after I watched the pilot) when I hit play. I thought I was watching the full series. So I watched the pilot and I liked it but I wasn't sure. Twitter told me to keep going, which I was going to, so I watched the next episode and then the next and the next. I was hooked. Soon I found myself plowing through all the seasons and I even watched 13 episodes on one snows day. For those counting that is 572 minutes of television. It is such an amazing series. The characters, the plot, the acting, it just all worked. Season 1 was definitely my favorite with 4, 2 and 3 following, in that order. When I was done I was left trying to figure out what I was supposed to do next. And then the reboot started on April 4th. Oh my heart!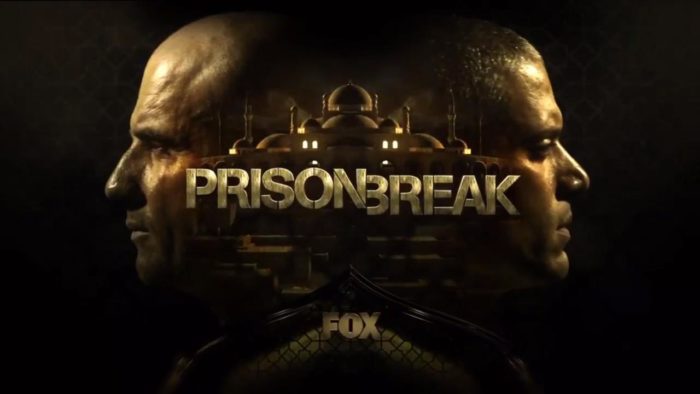 Fair warning, this is filled with something that will spoil things from seasons past so readers beware.
Most times a reboot can be a kiss of death for a fan. It never has the same magic as the first or it is missing key players and characters you loved. It never usually lives up to the hype you set yourself up for, but that was not the case with Prison Break. The first episode (of only 9, the TEARS) starts off with a bang and you never look back.
Ooooooooooh. T-Bag bringing the surprise!#PrisonBreak pic.twitter.com/LhQVuMKQIk

— Prison Break Writers (@PBWritersRoom) April 5, 2017
T-Bag, played by the AMAZING Robert Knepper, shows up at Lincoln Burrows' (Dominic Purcell) life and completely changes the course of everything: elivering the message that Linc's brother Michael Scofield (Wentworth Miller) is most likely alive. SAY WHAT??? I knew it was coming, but still. All the feels.
Being the guy that he is Linc sends Teddy on his way and immediately flies to see Michael's true love, Sara Tancredi (Sarah Wayne Callies). Oh my MiSa loving heart breaks a little at this, seeing Sara and Michael's son and where Sara is in her life. But Sara does seem happy so that's something. Well that is until she is right back in the action as she once was, and she becomes the Sara I know and love.
Sara has been in this situation before. She's prepared.#PrisonBreak pic.twitter.com/4t15bx809Q

— Prison Break Writers (@PBWritersRoom) April 5, 2017
Sara being Sara she is skeptical that Michael is in fact alive. She wants to believe it, but she can't allow herself to. But that doesn't stop Linc. Actually not much will stop him. He does what he does, a bunch of crazy things and finds someone that will help him get to Yemen. He finds C-Note (Rockmond Dunbar) who has converted and is a changed man. From there on (with an appearance from the always fun Sucre (Amaury Nolasco)) the Prison Break I know and love is back!
This is how we do.#PrisonBreak pic.twitter.com/0RDApH1mCZ

— Prison Break Writers (@PBWritersRoom) April 5, 2017
Seriously guys it was so epic. And the last scene was the scene to end all scenes. I have a gif but I just don't want to spoil that scene. Just know it was everything I hoped it would be and more. I don't think 9 episodes will be enough. Actually I don't think the 81 episodes of the first 4 seasons was enough. Basically there will never be enough Prison Break for me to fangirl over. I will leave you though with a look at the rest of season 5:
This season on #PrisonBreak… pic.twitter.com/yquktSersb

— Prison Break (@PrisonBreak) April 5, 2017
A huge thanks to Sarah for letting me get my fangirl on again and to talk insistently about Prison Break. It was so fun to share this with all of you lovely readers.
Now I ask, are any of you Prison Break watchers?
If you're not, you should be!
IF YOU'RE INTERESTED IN TAKING OVER MY BLOG TO FANGIRL YOUR OWN HEART OUT BE SURE TO SIGN UP BELOW!

DATES AVAILABLE STARTING IN JULY.